SHORN
By Nora Douglass
Directed by Madge Montgomery
August 2-17
Fridays & Saturdays at 7:30pm
Sunday matinees on August 4 & 11 at 2pm
Lena, an older woman, holds onto her scrubby piece of land even as a war rages on around her. She cares for a young man named August who is mute and appears to be profoundly impaired. Claire, a disgraced outcast, is dumped on Lena's property after having her hair shorn by the women from a neighboring town. With humor and heartbreak, three unreliable narrators reveal secrets as they try to survive in a world under siege.
Tickets on sale now!
Purchase Tickets
---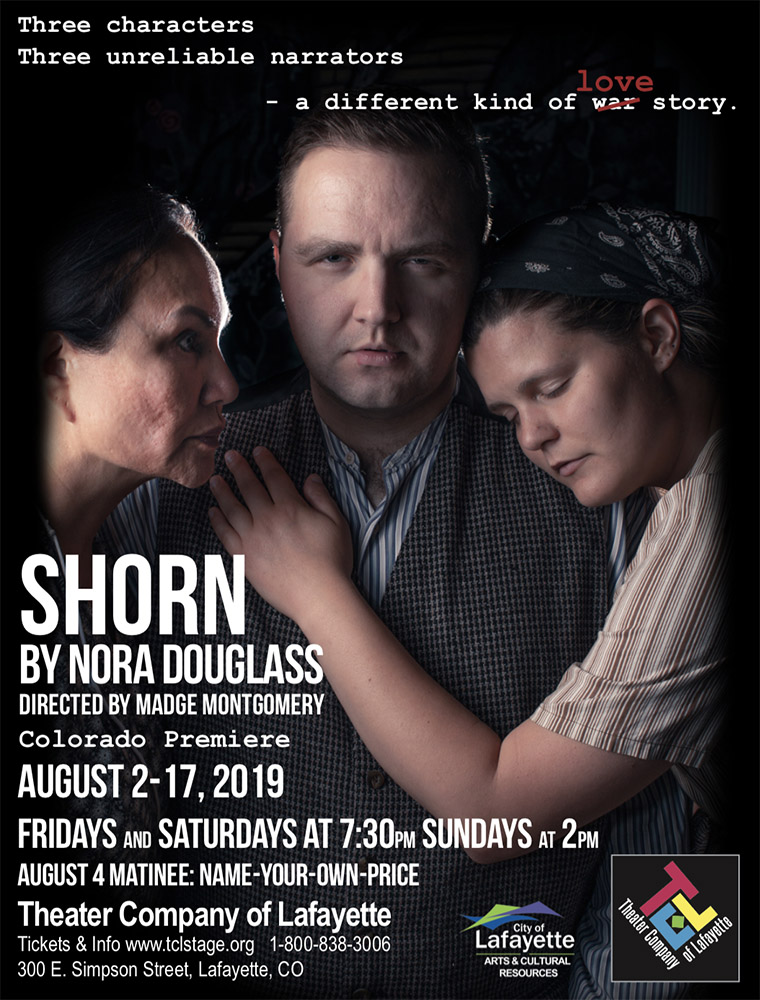 PIPPIN
Music and Lyrics by Stephen Schwartz
Book by Roger O. Hirson
by permission through Musical Theatre International
Pippin is a coming-of-age story as told through the famous and well loved musical written by Stephen Schwartz and Roger Hirson.  The ensemble cast tells the story of Pippin, a young prince who longs to find passion and adventure in his life. To prove his loyalty to his distracted father, King Charles, Pippin goes to war. But when the Leading Player convinces the prince to fight tyranny, Pippin kills Charles and takes over the throne. Realizing his mistake, Pippin begs the Leading Player to bring his father back to life, and she obliges. The prince falls in love with Catherine, a widow with a young son, and (much to the Leading Player's chagrin), Pippin struggles to decide whether he should settle down and pursue a peaceful life or continue to make magic with the dazzling troupe of performers.  Filled with well loved songs such as Magic To Do, Corner of the Sky, Glory, Simple Joys, With You, No Time At All, and Morning Glow.
Playing 15 performances between October 18 and November 9th, 2019.
---
"It was the most intimate theater experience that I've had and that setting just added to an already powerful and emotional play."The Laramie Project opening night audience member