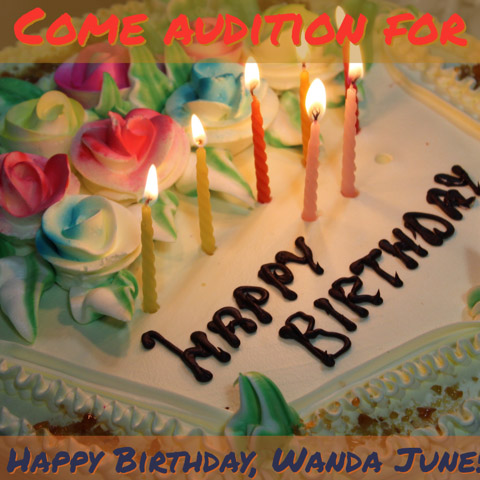 Happy Birthday Wanda June Auditions
"This is a simple minded play about men who enjoy killing things, and those who don't."  Or that is what Kurt Vonnegut would have you think at the opening.  Happy Birthday Wanda June tells the story of Penelope Ryan and her son Paul when her husband Harold Ryan, an adventurer and war hero, returns home after being presumed dead with his friend Col. Harper, who dropped the bomb on Nagasaki.  Penelope has been dating two men, Dr. Woodley and Herb Shuttle, who are both very different from her husband.  The characters humorously navigate Harold's return and issues of masculinity amid interjections from dead characters (a 10 year old girl, a Nazi war criminal, and Harold's ex-wife) in heaven. 
Auditions will be held Monday, Nov 18, 2019 and Tuesday, Nov 19 , 2019; from 7-10 PM at the Mary Miller Theater (300 E. Simpson St, Lafayette, CO). Callbacks will be held Wednesday, Nov 20, 2019.  If you are unable to make auditions but would like to audition, please contact the director Brett Landis at landisbrett@yahoo.com. 
Show dates are: February 14-29 on Fridays and Saturdays at 7:30, Sunday matinees at 2pm, one Thursday performance on February 27 at 7:30pm.
Please bring a headshot and resume to your audition.  Please be ready with a contemporary monologue or be prepared to read a monologue from the script.  
We will cast the following characters: 
Please note:  the genders and ages listed for a part is the gender identity and age for the character, not necessarily the actor playing the part, unless otherwise specified.  Any part may be played by an actor of any race or ethnicity. 
9 characters needed
Harold Ryan- man, 40s-60s, a man who enjoys killing things.  He earned fame in WWII killing Nazis, then proceeded to kill many, many, many animals hunting.  He returns home after many years, being declared dead. 
Penelope Ryan- woman, 30s-40s, Harold's wife, has evolved since marrying him and is now in grad school. 
Dr. Norbert Woodley- man, 20s-30s, a hippie doctor who does not enjoy killing things.  One of Penelope's suitors. 
Herb Shuttle- man, 30s-40s, a vacuum cleaner salesman, unclear if he enjoys killing things.  One of Penelope's suitors. 
Col. Looseleaf Harper- man, 40s-70s, Harold's friend and companion while they were missing.  Dropped the bomb on Nagasaki. 
Paul Ryan- boy, 12 years old.  Penelope and Harold's son. 
Wanda June- girl, 10 years old (played by an adult, any age).  Dead, but optimistic. 
Major Siegfried Von Konigswald- man, any age (however, I would like to cast this part with a female identified actor dressed in drag).  Dead, Nazi war criminal killed by Harold. 
Mildred Ryan- woman, 40s-60s.  Dead.  Harold's alcoholic ex-wife.
To sign up, please choose a slot: https://www.signupgenius.com/go/4090f45adaf22a2fb6-happy