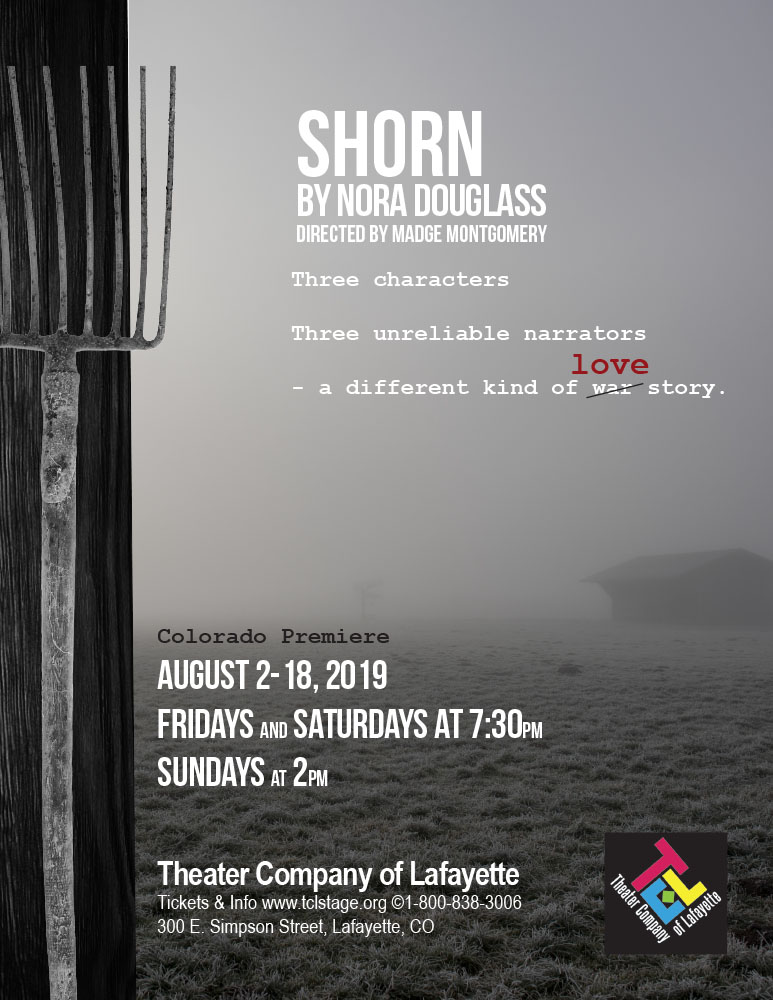 Shorn is a character driven piece about individual survival when the world is under siege. The location and time are indeterminate, but the characters are very recognizable. Lena, an older woman, has held onto to her scrubby piece of land even as a war rages on around her. She cares for a young man named August who is mute and appears to be profoundly impaired. Claire, a disgraced outcast, is dumped on Lena's property after having her hair shorn by the women from a neighboring town. Claire proves to be a disruptor to the quiet life that Lena and August have built. Gradually, we discover that the characters hold many secrets, and nothing is quite as it seems. Though the play is poignant and deals with the ravages of war, it is quite funny in many places, with quick witted characters and some physical comedy. In the end though, the play is about the lies that we tell to protect ourselves from exterior and interior pain, and what is required to find truth and connection between deeply wounded people.
by Nora Douglass
Presented by Theater Company of Lafayette
Directed by Madge Montgomery
August 2nd – August 17th, 2019
Fridays and Saturdays at 7pm
2 Sunday matinees on August 4th and 11th at 2pm
VENUE
The Mary Miller Theater
800 East Simpson Street
Layafette, CO. 80026
The role of Lena has been cast.
Auditioning actors for Claire, a young woman, and August, a young man 18-30 years old
WHEN ARE AUDITIONS?
Sunday and Monday, May 5th and 6th, 2019 at 7pm
WHERE ARE AUDITIONS?
The Mary Miller Theater
300 East Simpson Street
Lafayette, CO. 80026
CALLBACKS
None
BRING / PREPARE
Headshot and Resume and a list of conflicts. No preparation required – cold readings from the script.
COMPENSATION
Roles receive a nominal stipend
REHEARSALS
Begin in June 2019
QUESTIONS?
Email: madgemontgomery@gmail.com
To sign up for an audition: Click Here.
To receive an excerpt from the script (or for more information) – email the director at madgemontgomery@gmail.com